Step 5: Installing Appium in Windows
Click on Download Appium button. It will download a zip file into your computer.
Now extract the downloaded file and open it. There will be an exe file named appium-installer.exe. Double click on that exe file to start the installation process. It will ask you to select a language during the installation. (Select English and click OK). Click Next at each step to proceed the installation and finally click install. At the final stage tick the Launch Appium check box and click Finish.
Now it will launch Appium as shown below.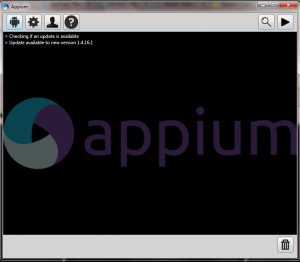 Now Appium is ready to use
Configuring Appium
By default Appium will launch with default configuration parameters. In order to reduce errors during the testing it is better to set/modify few appium parameters according to your requirement if they are wrong or not set properly.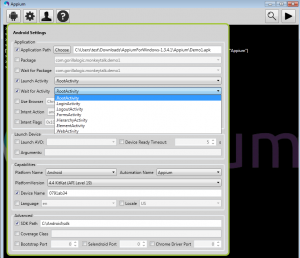 Click on Android settings button as shown above. Set Platform name and Automation name to Android. Select the platform version according to your device.
Next click on General Settings and set Server Address to : 127.0.0.1 and Port number to: 4723.(Note down them because you will need them in the code). finally uncheck the Pre launch Application check box if it is checked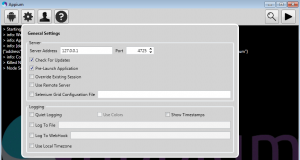 READ THE NEXT TUTORIAL TO CONTINUE WITH STEP 6……!!!
Back to Tutorial 01 Back to Tutorial 02 Back to Tutorial 03 Back to Tutorial 04 Tutorial 06 Tutorial 07